Hello, friends!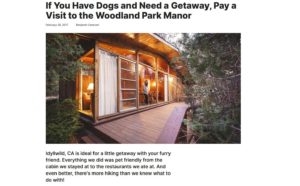 Many of our guests travel with their pets, so we thought we should share this with you!
A couple years ago, this beautiful article was published and it re-surfaced on Facebook recently.
Lots of good information for our guests and their four legged friends.
Click Here to read the full article!
Summer is in full swing with guests enjoying our pool, hiking, spending time in the village or just relaxing in the woods.
Idyllwild is always busy with summer events but one of our favorite's is our Summer Concerts!
Every Thursday evening a free concert is offered to the community and guests.
A variety of musicians offer their talents for all to enjoy.
It's extra special this year because it is taking place in our brand new outdoor amphitheater on the grounds of our future Community Center.
Bring some folding chairs, maybe some snacks or a picnic dinner and join us!
And, friends, please help spread the word that, while we do have some road closures, we have open roads as well.Too many people have read inaccurate reports that we are totally isolated with all our roads closed.
Idyllwild businesses are open and welcoming visitors every day!
Just double check your driving directions to see if you need to use a detour.
Give us a call if you would like help finding your best route.
Hope to see you soon for some Idyllwild summer fun!