Idyllwild Vacation Rentals Offer Secluded Settings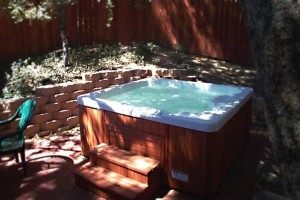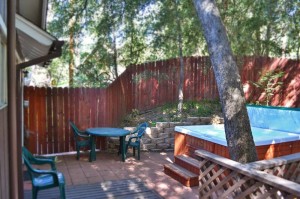 We offer an exclusive selection of Idyllwild vacation rentals cabins. From cozy, charming cabins for just two, or large elegant cabins for many more, we have the perfect choice for your mountain enjoyment in Idyllwild and Pine Cove.
All our Idyllwild vacation rentals have a fully equipped kitchen and all linens are provided. All have telephone,TV and VCR/DVD. Some have Hot Tubs and some are Idyllwild pet friendly cabins. There is a $35-45.00 cleaning fee for each of the cabin rentals listed below.
---
Hill Top
Hill Top is a unique cabin, with a HOT TUB, nestled in the trees, high on a hill. Large windows and decks all around offer beautiful views of the forest. This cabin sleeps 6 with three bedrooms , each with a queen bed, two bathrooms, a fireplace, a beautiful kitchen and dining area with a view into the treetops! With a deck along three sides of the cabin, and a beautiful new HOT TUB, it is the perfect place to relax and enjoy the woods. Two of the bedrooms have private decks for just two!  With this beautiful tree top view, please take note that this cabin has a quite a few steps up to the entrance.This Vacation Rental provides you with WiFi and Air Conditioning for the warmer summer days.Pets welcome. Non smoking. Hill Top rents for $240.00 per night.
---
Fern Meadows In cozy mountain style, Fern Meadows is the perfect getaway for two!
With wood floors, a rustic brick fireplace and knotty pine accents, it truly feels like "Idyllwild".
This cabin has one bedroom with a queen size bed, one bathroom with a stall shower , a full kitchen and a nice dining area.
Windows all around offer beautiful views of the forest. There is a back, fenced patio area and a front deck with a view into the treetops!
A nice walk into the village and easy access to our park and pool at Woodland Park make the location ideal.
Pets welcome.
No smoking.
$170.00
---
Oak Leaf Oak Leaf is a charming cabin with a perfect country touch!
This cabin has a beautiful rock fireplace in a cozy living room with large windows. With two uniquely decorated country bedrooms, one with a queen bed and the other with two twin beds, Oak Leaf comfortably sleeps four. It has one full bathroom.
Nicely equipped kitchen with new quartz countertops and a pretty dining area surrounded with windows.
Enjoy Oak Leaf's roomy deck encircled with trees!
For a group larger than 4, you can add the Lilac Cottage….a separate downstairs apartment offering a nice living room with a rock fireplace, one bedroom with a king bed, a bathroom and a kitchen.
Oak Leaf is surrounded by pretty garden areas with oaks, lilacs, pines and cedars and is in an ideal location, with easy access to our park and pool at Woodland Park, and within walking distance to the village.No Smoking Sorry, no pets
$185.00
$230.00 with Lilac Cottage.
---
The Ridge Dome Tucked in the trees, this unique dome cabin offers a peaceful Idyllwild vacation rental setting for a great mountain getaway. The living room has a fireplace, many large windows and walls that showcase the creative woodwork of the dome. One bedroom downstairs with trundle twin beds. An upstairs loft has a king bed and skylights that offer a view of the stars. Two bathrooms one with a shower and the other with a jacuzzi tub. Central Heat and Air Conditioning.This cabin will accommodate 4-6 people. The pretty garden has a waterfall flowing over a 10 foot granite boulder and a HOT TUB on the back deck.Non-smoking
Pets welcome
$220.00/night
---
Fernwood Fernwood is a charming Idyllwild vacation rental in beautiful, wooded Fern Valley. A brick fireplace and many windows add to the mountain atmosphere of this cozy cabin. The spacious deck is perfect for enjoying the woods. Full kitchen in the Idyllwild cabin. Two bedrooms, each with a queen bed, and one bathroom, make this cabin ideal for 2-4 people. Within walking distance to the village. Small fenced yard.Non-smoking
Dogs welcome
$185.00/night
---
Camelot on Azalea Creek
A classic mountain cabin in a secluded location right on the creek in Fern Valley. This Idyllwild vacation rental has a living Room with a wonderful rock fireplace and floor to ceiling windows with a gorgeous view into the woods outside the vacation rental.Two bedrooms, one with a king and the other with a king and a twin. Large kitchen and two bathrooms in this Idyllwild Vacation rental. Spacious deck on the creek. Beautiful wooded location. Free wireless internet. Guest House with additional queen bed and bathroom also available. Accommodating up to 7 (9 with the guest house.)Non-smoking
Sorry, no pets
$215.00/night
$260.00/night with Guest House
---
---
Point of Rocks Pleasant secluded two bedroom cabin with outdoor HOT TUB in a pretty, wooded setting, kitchen with breakfast nook, fireplace and living room in this Idyllwild vacation rental. Accommodates up to 4 with two queen size beds. Wood deck, near seasonal stream. Free Wireless Internet Service. Non-smoking.
Pets welcome.
$200.00/nightWith additional downstairs bedroom, kitchen and living room with fireplace, Point of Rocks will accommodate up to 6 people.
$240.00/night
---
Stonewood A unique cabin with a breathtaking view of the mountains. Enjoy the view in a HOT TUB on the deck. The knotty pine interior, open beam ceiling and a beautiful fireplace on a raised brick hearth add to the mountain charm. 52″ flat panel TV in the living room. Kitchen and two bathrooms with showers in our Idyllwild vacation rental. This cabin will accommodate 5 guests, with a bedroom with a king bed and a loft area, with a queen and one twin. In the secluded Stonewood area, above Pine Cove, this cabin is about 5 miles from the village. Air Conditioning and Washer/Dryer. WIRELESS INTERNET SERVICENon-smoking
Some pets allowed
$240.00/night