Hello, friends!
Summer is finally here!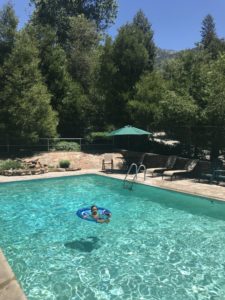 We had three snowfalls at the end of May and we didn't think summer would ever arrive! Then, suddenly the trees are all leafed, the ladybugs are back and summer is here! We kind of skipped Spring all together! We are enjoying beautiful warm days of hiking, swimming and spending time in the village.
We have a few new shops and restaurants to discover too! Idy Sushi Rolls opened just this week and offers Udon, Teriyaki and Ramen as well as sushi. Mamma Mia Crepes and Desserts is also new. They offer both sweet and savory crepes that are as beautiful as they are delicious! Upstairs in the Fort. The classic Gastrognome has a new menu, a new chef and is, as always, one of our guest favorites. And, we can't miss mentioning La Casita, Colin's favorite by far! You will find delicious, affordable Mexican food…and our daughter, Lindsey, serving you!
Our road situation is very slowly improving. We are so thankful to have open highways and guests enjoying the beautiful drives. The route from Palm Desert is truly spectacular! It is a designated California Scenic Highway…..the Palms to Pines Highway which takes you from the lower Sonoran desert through several ecosystems all the way up to our high country conifer forest.
Since our February rain storm ( we got 9.5″ of rain in 24 hours!!), we have had parts of Hwys 74 and 243 closed. The good news is, the other side of both highways is open so it is easy to get here…it just involves a detour and a little extra time for our LA and Orange County guests. Most of our San Diego and Desert guests can travel to Idyllwild by their usual route. Double check your driving directions or give us a call before driving up. We will be happy to help!
Come visit soon….we have discounts for midweek stays and longer stays! Give us a call!