Hello, friends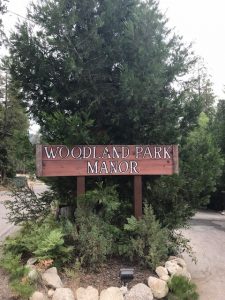 I will give you the end of the story first….Idyllwild and Woodland Park Manor are untouched by fire and as beautiful as ever!
Now, from the beginning!
As many of you know, the Cranston Fire started July 25 near Idyllwild. We closely watched the fire's progress, started packing a few things and within a few short hours we received the order to evacuate. We left with our important papers, guest info and, of course, our family pictures! Our hats are off to law enforcement and all who organized the evacuation….it was quick and smooth. Before we knew it, we were in Banning saying "What now?". We spent a couple days with our daughter and then a couple with our son, having lots of fun with our grandkids, with one eye on the latest fire reports at all times!
Yesterday morning, we received the news we were waiting to hear…the evacuation was lifted and it was safe to return home! WE CANNOT EXPRESS THE GRATITUDE WE FEEL FOR ALL THOSE WHO WORKED SO HARD AND RISKED SO MUCH TO KEEP OUR HOMES AND PRECIOUS MOUNTAIN VILLAGE SAFE!
Sadly, a few homes on the outskirts of town were lost. Our wonderful community is barely back home and already planning fundraisers to help these families as they move forward.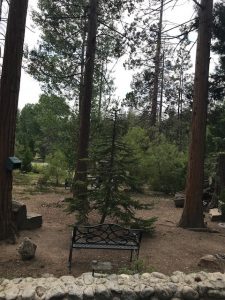 I cannot tell you how much we appreciate all the texts, call, emails and posts we have received from our Woodland Park Manor friends. So many expressing concern, recalling fond memories from past visits and generously offering help.
YES!!! IDYLLWILD NEEDS YOUR HELP!
Please spread the word that Idyllwild survived and is beautiful as ever! Let everyone know that if they would like to help, COME VISIT! All Idyllwild businesses, mostly small and family owned, will be hurt. Not only from a week's lost income during our busiest season but also from many cancellations and lack of visitors in the coming weeks and months. It's completely understandable…the public is left with images of fire over our mountain. Their concern leads them to change plans or just not consider Idyllwild for their next getaway. All the while, our village, lodging, restaurants and shops are unchanged, ready and waiting to serve our guests!
Please come visit! For just a day, or even better, a few days! Eat in a restaurant, buy a little something in a shop, rent one of our Cottages/Cabins or camp!
We need you and all of Idyllwild will be thankful!
We hope to see you soon!