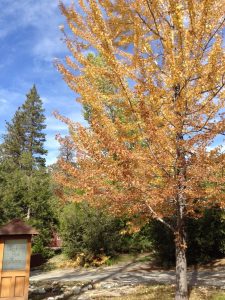 Hello, guests!
Fall has arrived with beautiful color! The weather is perfect…..brisk mornings and evenings, days that are perfect for a hike or just relaxing on your deck. We have had a few days cool enough to enjoy a fire in the evenings….we all love this time of year.
A wonderful guest spent some time in our Cottage in the Woods this week and "zentangled" this pumpkin while she was here. Then, she generously gave us her work of art! It's beautiful…we will have it on display in our office all season! I might even give this art form a try…..I feel inspired!
Fall is also our project time. This year we are building a new entrance area outside our office…adding a walkway and new deck. We are designing a more welcoming, easier to use entrance and Matt is working hard to get it built!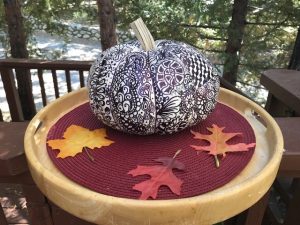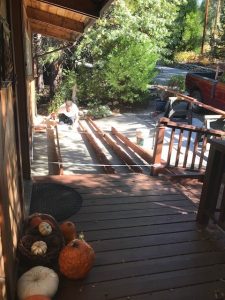 Colin and I just took a little time and went out to lunch at Mile High Café. Always such a pleasure! The food is delicious and a bit above expectations each and every time. They are serving a holiday meal on Thanksgiving that includes turkey, duck, prime rib, sea bass, all the sides and desserts too! One of our guests enjoyed Mile High Café last Thanksgiving and told us it was the best restaurant meal they had ever had! We suggest visiting this wonderful restaurant next time you are here in Idyllwild.
Come visit us….we have a few weekend openings before Thanksgiving and one last minute Cottage available for the Thanksgiving weekend. And, as always, we have midweek openings for a nice quiet visit at a discounted rate!
Hope to see you soon…..Happy Fall!