Hello, guests! It's been too long since we have written to all of you! All is well here at Woodland Park Manor. We are in the middle of our beautiful summer season. We have had a few days of exciting thundershowers but mostly warm sunny days and cool nights! Our guests are spending lots of time by our pool in the pines, hiking and just relaxing in our cool green forest.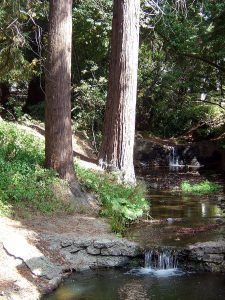 The village area is thriving! New restaurants, galleries and shops have opened. Idyllwild Bake and Brew offers delicious pastries, coffee, sandwiches and a "Back Room" brewery with dinner.. and live entertainment. Ferro's, Idyology, Fratellos and the new Idyllwild Brew Pub are all popular spots.
Idyllwild is a busy community! This weekend, the Art Alliance of Idyllwild is offering their annual Eye of the Artist event. The gardens at the Idyllwild Historical Society will host working artists, refreshments, music and a judged art show with a "Landscapes of the Mind" theme. Admission is free!
As I write, it is 79 degrees and sunny, with a little breeze. We will break away a little later and walk by the creek…just a block from us. Then, we will have dinner on our deck…..embracing summer to the fullest. We make sure to stop and enjoy Idyllwild ourselves once in awhile!
Give us a call…we have openings during the week and a few on weekends too. Hope to see you all soon!