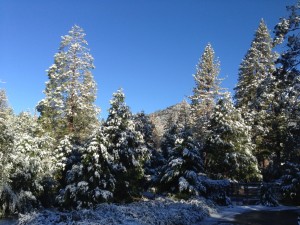 We have had our first snow! This is the earliest snow we recall in our 34 years at Woodland Park Manor. It was just a couple inches and it melted quickly but it was a promise of more to come!
For now, we are enjoying sunny and cool days. The leaves are turning beautiful reds, golds and yellows. It is a great time of the year to hike, bike ride or spend time at one of our lakes. The scenery is amazing!
We spent some time on the Ernie Maxwell trail last week. The weather was perfect, the Fall colors were breathtaking. We saw more birds than ever before, many squirrels, bunnies and even an elusive bobcat. It was an easy afternoon hike…..5 miles round trip. A wonderful way to spend an afternoon!
This Fall the deer have been coming by our park area here at Woodland Park Manor. Early in the morning we look out and often see a family of deer munching in our park. We love it!
Come enjoy Fall in Idyllwild!