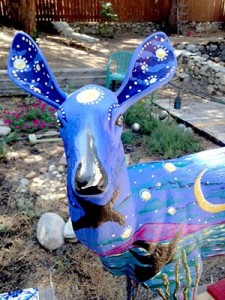 We have had a week of wonderful thundershowers!! Plenty of rain and fresh, cool temperatures! The forecast calls for sunny clear days this weekend. Come enjoy time in our mountains!
Our Idyllwild Art Alliance is offering a once in a lifetime opportunity this Sunday. The are gifting our community with a herd of 22 deer sculptures….each uniquely painted by a local artist. Each deer will reflect a different aspect of Idyllwild, from local history to natural beauty to hiking our beautiful trails!
The herd will gather one time only–this Sunday, Sept 15–at Forest Lumber from 11:00-1:00pm. After the gathering, each deer will be placed in a special location around our village.
And, remember, Saturday, Sept 14, is our annual Home Tour!  This is a wonderful opportunity to tour some of the most amazing homes in Idyllwild. This year's homes range from historical to contemporary. Sponsored by the Idyllwild Historical Society, this annual tour is always a guest favorite!
Join us for beautiful weather and unique fun this weekend!